Tag Archives:
Gaming
Animé? Check. A huge number of RPG games on display? Check. Super geeked out, women and men in cos-play as their favorite game characters? Check.
If you're thinking about attending the G-Star Global Game Expo in the near future take a look at this first-timer's guide. It has everything you need to know about the popular South Korea game conference that takes place every year at the end of November or early December.
G-Star is unique, but with similarities to other notable conferences. Imagine taking the E3 conference in Los Angeles, California and combining it with GamesCom in Cologne, Germany. But instead of your typical developers, you had a decidedly Korean game scene. Like many of the other gaming conferences, G-Star doesn't hold back. One of the first thing you'll notice upon arriving at the conference are the giant game banners decorating the outside of the Busan Exhibition and Convention Center, better known as the BEXCO Center where the G-Star Expo is held.
Once you enter the conference, it is obvious that Nexon, is a key player in the Korean games industry. Nexon, a huge publisher, has a substantial booth area and banner displays, and several hundred adoring fans crushing through their space. From PC to console to mobile games, Nexon has a growing influence that is going beyond Korean borders. Checkout their Hyper Universe (PC side-scrolling MOBA), Fantasy War Tactics (Mobile RPG), and H.I.T. Heroes of Incredible Tales (Mobile RPG) to get a nice flavor of the Korean fighting and role-playing genres. If you want to know what makes Korean gamers tick, Nexon is the gaming company you need to understand.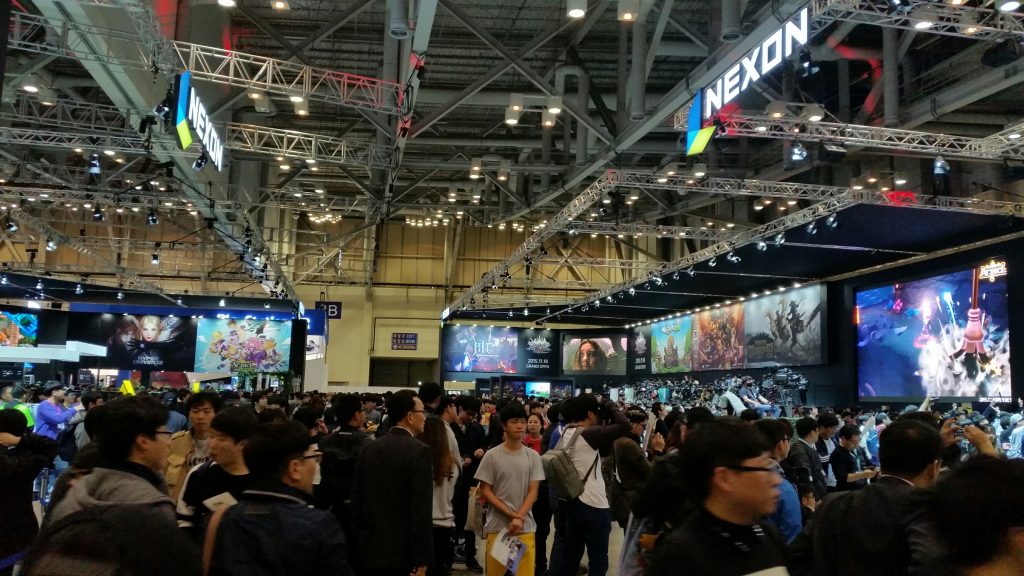 The G-Star Conference Environment
While G-star is a show for consumers, there is also a relatively large business-to-business (B2B) portion of the show that is closed to the public. This section of the show is in a completely separate 3-story expo building just across from the consumer show floor.
Unlike E3 and GamesCom which have a very limited mobile gaming business representation, G-Star has various mobile game developers. If you want to find all the up- and- coming Korean Indie developers, you'll find them at the B2B section of the show. I was able to meet literally dozens of mobile game developers, big and small, and have very productive, impromptu introductory meetings with most of them. Of course, it's always highly recommended to arrange meetings in advance of the show.
While there were western and non-Korean APAC region developers represented at the expo, the overwhelming majority of developers and publishers were Korean. It cannot be stressed enough that G-Star is THE show you should go to if you want to understand the Korean game scene and industry landscape.
With South Korea having the fourth largest annual games revenue by country at over $4 billion USD (source: http://www.newzoo.com/free/rankings/top-100-countries-by-game-revenues/) – with $1.6 billion from mobile games –  the G-Star Expo has become one of the most important shows to attend for companies who want to understand and partner with the most influential gaming companies in Korea.
Getting on a plane to come to Korea is easy enough.  Here are a few things you should know if you do make your way here next year. .
Things You Should Know about G-Star and Busan, South Korea
Where is S-Star held: The show is held in the city of Busan, South Korea and is home to more than 3.6 million residents! A little fun fact, Busan is South Korea's second largest city after Seoul.
What is there to do in Busan: Busan is known as having South Korea's largest beach, longest river, and largest department store the "Shinsegae Centum City." If you enjoy a relaxing soak, Busan is also well known for the area's mineral hot springs which have been transformed into bathhouses and spas. If you don't have that much time, you can always find a nice karaoke room to fill an hour or two. Busan seems to have two or three on every block.
How to get to Busan: If you live in South Korea, it's a quick 40 minute flight south from Seoul, or about a three hour train ride on the KTX high-speed train. If you like trains and have the spare time, the KTX is a nice way to get to Busan and see some of the Korean landscape. Now, if you don't live in South Korea, you may find yourself like me with a four hour layover at Seoul's Inchon airport, waiting for connecting flights to Busan. As it turns out, I could have taken the KTX, enjoyed a train ride, and still made my connection at Inchon airport – so keep that in mind when planning your trip.
Getting from the airport to your hotel: As soon as I exited baggage claim, a gentleman came up to me and asked if I needed a taxi. I've had this happen before and you probably have too, a guy comes up that isn't an official taxi driver and guides you to his car with a "special rate." This is the thing authorities warn you about. Never take a ride from a stranger, especially in a foreign country. So when I was greeted by this stranger at the Busan airport, I politely explained that I only take official taxis. "Okay, okay. Yes, please follow me," he said, and led me straight to the taxi cue outside.
Have you played a game on your watch? Have you strapped on a virtual reality headset? Have you had more fun watching someone play a game than playing it yourself? If you've answered "yes" to any of these questions, you have experienced some of the new trends rippling across the gaming industry.
First, with the recent launch of new smart watches on the market, game developers are eyeing the device closely as a new potential platform for gaming. While some developers are skeptics about the tiny screen, others are quickly embracing and innovating new gaming experiences specifically for the watch. In fact, smartwatch game developer Everywear just recently closed a $2.25 million funding round. There is no doubt that people are interested in the future of gaming on smartwatches.
However, game and app developers have a long way to go before gaming on the watch is viable. The majority of the smartwatch games on the market today fall into two basic experiences.
1) A few words at a time on a tiny screen (Imagine the text-only games like Zork, but on a tiny screen).
2) Super simple graphics on small screens and awkward player controls like the very early mobile BREW (Binary Runtime Environment for Wireless) games.
For smart watch games to significantly advance beyond the current state, touch controls need to be refined. In my own testing, I tried to play a simple watch tile-puzzle game on a watch and could not for the life of me get one tile to slide across the screen. While smartwatch gaming is trendy right now, the experience is still not on par with smartphone and tablet games. Over time, more consumers will buy more smartwatches, which will drive developers to continue to see value in smartwatch games, and make the technology and time investments to make these 'tiny games' more engaging and more playable.
On the opposite spectrum from tiny screens is VR. It seems like every day I'm reading new articles about VR in the gaming industry. I have lost track of how many companies are developing headsets or controllers aimed at conquering the VR landscape. Big and small companies alike are looking to bring gaming to VR. For example, Microsoft recently announced a partnership with Oculus to ship the Xbox One controllers as the standard Oculus Rift accessory.
Investing in VR is popular for good reason. If you've ever strapped on a VR headset, then you know how immersive it can feel. We are in the infancy of VR software development, and it's already this good! Invariably, when I demo VR to someone for the first time, they say, "Wow" or "Oh, my God! This is amazing!" The experience is so real that they either try to walk around and crash into furniture, or reach their hands out into the real world knocking over whatever is in front of them. The appeal of VR is very real.
Lastly, one of the latest growing trends is watching other people, strangers mind you, play video games. Gone are the days when waiting for a friend to pass the controller was pure agony. Companies like Twitch, Everyplay, Kamcord, YouTube and the new Mobcrush are all trying to cash in on viewers who enjoy watching gamers game. Twitch boasts more than 100 million unique viewers a month and more than 16 billion minutes watched per month. Those big numbers did not go unnoticed – Amazon's acquisition of Twitch just became official last week.
This trend of watching gamers game is not going away. The Call of Duty YouTube video channel gathers larger audiences than popular television shows like Modern Family and Walking Dead. As more and more people unplug from traditional TV and demand entertainment anytime, anywhere, streaming content is poised to become the new norm.
The gaming world is changing! Smartwatch games, VR, and watching gamers game are just three big trends out there right now. I'm interested in hearing your thoughts on other gaming trends you find relevant. Contact me at @BobHeubel on Twitter and let's discuss.
For those of us in the content business, the big draw at this year's International Consumer Electronics Show was the intense focus on immersive entertainment and technology. (CES highlights the focus on Immersive Entertainment from gaming and other entertainment companies on the show floor.)
When you think immersive anything, haptics has to be a part of the conversation. The sense of touch is able to transforms consumers' digital experience unlike any other sense. It can trigger memories, personal experiences and emotions.
Whether virtual or augmented reality, mobile gaming, second screen experience or TV everywhere, the industry is delving deeper into how to create ultra-immersive, engaging entertainment experiences for the consumer. Dolby and DTS are making waves with immersive sound technology, driving up consumer expectation for a more realistic audio experience available in the home. Quantum Dot, SUHD, 4K and OLED technologies are creating quality in displays beyond what the eye can see. The sense of touch is an untapped potential in extending the experience to further engage the viewer.
This is an inflection point for the content and media industry. Mobile gaming and viewing is becoming arguably the first screen that reaches the consumer. Smaller screens and more public environments are impacting the viewing experience, changing the dynamic of the media and entertainment market. Immersion's TouchSense Engage, on the other hand, adds another piece to the experience — the use of touch to directly connect with viewers.
There was so much more at this year's CES – from androids and drones, to wearables and smart cars, ranging from to publicity stunts meant to grab headlines, to the very viable, and the already in the market. There's much to explore. I'm excited to see what we can do together to create this new immersive world.
I'd be interested in hearing your thoughts on this year's CES and what it means for the content industry. Reach me and our team at content@immersion.com.
Jason Patton,
Vice President & General Manager of Content & Media Business for Immersion