Animé? Check. A huge number of RPG games on display? Check. Super geeked out, women and men in cos-play as their favorite game characters? Check.
If you're thinking about attending the G-Star Global Game Expo in the near future take a look at this first-timer's guide. It has everything you need to know about the popular South Korea game conference that takes place every year at the end of November or early December.
G-Star is unique, but with similarities to other notable conferences. Imagine taking the E3 conference in Los Angeles, California and combining it with GamesCom in Cologne, Germany. But instead of your typical developers, you had a decidedly Korean game scene. Like many of the other gaming conferences, G-Star doesn't hold back. One of the first thing you'll notice upon arriving at the conference are the giant game banners decorating the outside of the Busan Exhibition and Convention Center, better known as the BEXCO Center where the G-Star Expo is held.
Once you enter the conference, it is obvious that Nexon, is a key player in the Korean games industry. Nexon, a huge publisher, has a substantial booth area and banner displays, and several hundred adoring fans crushing through their space. From PC to console to mobile games, Nexon has a growing influence that is going beyond Korean borders. Checkout their Hyper Universe (PC side-scrolling MOBA), Fantasy War Tactics (Mobile RPG), and H.I.T. Heroes of Incredible Tales (Mobile RPG) to get a nice flavor of the Korean fighting and role-playing genres. If you want to know what makes Korean gamers tick, Nexon is the gaming company you need to understand.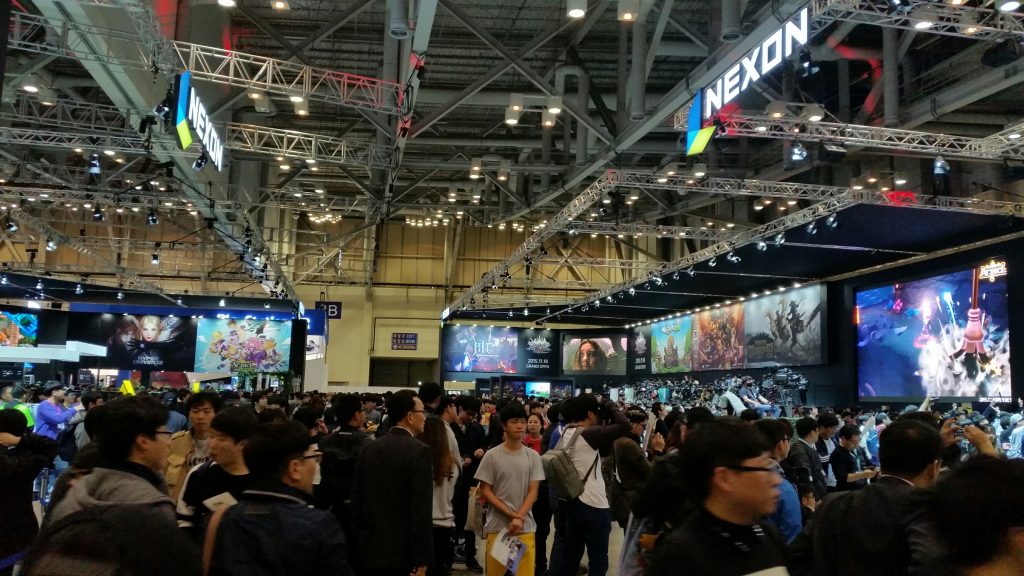 The G-Star Conference Environment
While G-star is a show for consumers, there is also a relatively large business-to-business (B2B) portion of the show that is closed to the public. This section of the show is in a completely separate 3-story expo building just across from the consumer show floor.
Unlike E3 and GamesCom which have a very limited mobile gaming business representation, G-Star has various mobile game developers. If you want to find all the up- and- coming Korean Indie developers, you'll find them at the B2B section of the show. I was able to meet literally dozens of mobile game developers, big and small, and have very productive, impromptu introductory meetings with most of them. Of course, it's always highly recommended to arrange meetings in advance of the show.
While there were western and non-Korean APAC region developers represented at the expo, the overwhelming majority of developers and publishers were Korean. It cannot be stressed enough that G-Star is THE show you should go to if you want to understand the Korean game scene and industry landscape.
With South Korea having the fourth largest annual games revenue by country at over $4 billion USD (source: http://www.newzoo.com/free/rankings/top-100-countries-by-game-revenues/) – with $1.6 billion from mobile games –  the G-Star Expo has become one of the most important shows to attend for companies who want to understand and partner with the most influential gaming companies in Korea.
Getting on a plane to come to Korea is easy enough.  Here are a few things you should know if you do make your way here next year. .
Things You Should Know about G-Star and Busan, South Korea
Where is S-Star held: The show is held in the city of Busan, South Korea and is home to more than 3.6 million residents! A little fun fact, Busan is South Korea's second largest city after Seoul.
What is there to do in Busan: Busan is known as having South Korea's largest beach, longest river, and largest department store the "Shinsegae Centum City." If you enjoy a relaxing soak, Busan is also well known for the area's mineral hot springs which have been transformed into bathhouses and spas. If you don't have that much time, you can always find a nice karaoke room to fill an hour or two. Busan seems to have two or three on every block.
How to get to Busan: If you live in South Korea, it's a quick 40 minute flight south from Seoul, or about a three hour train ride on the KTX high-speed train. If you like trains and have the spare time, the KTX is a nice way to get to Busan and see some of the Korean landscape. Now, if you don't live in South Korea, you may find yourself like me with a four hour layover at Seoul's Inchon airport, waiting for connecting flights to Busan. As it turns out, I could have taken the KTX, enjoyed a train ride, and still made my connection at Inchon airport – so keep that in mind when planning your trip.
Getting from the airport to your hotel: As soon as I exited baggage claim, a gentleman came up to me and asked if I needed a taxi. I've had this happen before and you probably have too, a guy comes up that isn't an official taxi driver and guides you to his car with a "special rate." This is the thing authorities warn you about. Never take a ride from a stranger, especially in a foreign country. So when I was greeted by this stranger at the Busan airport, I politely explained that I only take official taxis. "Okay, okay. Yes, please follow me," he said, and led me straight to the taxi cue outside.